I do love the colours and textures of yarns. I don't knit now as much as I used to but I still enjoy visiting the yarn department in craft stores.
I've been going through quite a lot of vintage magazines lately and of course knitting and crochet patterns were a big feature of women's magazines. Many women found it more economical to knit warm jumpers for their family and there were stylish jumpers, jackets, dresses and even coats they could make for themselves.
My mum knitted of course and the English Woman's Weekly was her favourite magazine.
Mum also liked to knit small items like dolls clothes and toys. She especially liked the patterns designed by Jean Greenhowe.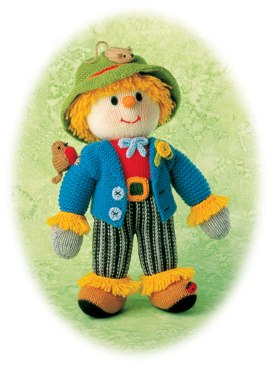 Many of these little characters passed through our house.
Mum taught me to knit too but I was a slow learner. She didn't lose patience and eventually I learned to knit but never to crochet which I regret because I would love to be able to make granny squares, Afghans or some of the wonderful patterns I've seen for dolls clothes.
I did knit a few jumpers and other items for Naomi and myself when I was young. I knitted David a jumper when we were first seeing each other. It didn't come out that well but he liked it. I knitted Naomi a dress in a glittery yarn which she liked but mum ruined by washing it and hanging it out on the line instead of laying it flat so it stretched. Naomi had only worn it once too. I tried my hand at knitting dolls clothes and toys too. I remember making this golligwog back in the 1970s.
Mum had her knitting mishaps too, not dropping stitches or losing track of the pattern as I tended to do but the complete destruction of her project by one of the family cats. She sometimes had to spend a long time unravelling tangled balls of wool and picking up dropped stitches.
These days although it is probably cheaper to buy knitted clothing than make it yourself people do appreciate knitting and crochet as a form of art. Yarn Bombing has become a popular thing in many places.
I still do a bit of knitting but these days it is only for the dolls I collect and sometimes the ones that I clean up for the Op Shop.